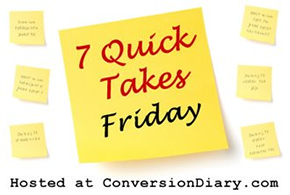 Yes, yes, it's been a while. What else is new? I'm really good at making promises and starting series that never finish, but one of my goals this year is to get back into blogging by doing 7 Quick takes each week through March. Let's see if I can do it!
1. Best Christmas Present! And my new tool for blogging. Jay got me a pretty one of these:
Yes it is an older, refurbished Mac, but we got it speeded up and ready to go and I have an AMAZING pink skin for it zooming towards me as we speak. I have fantasies of sneaking of to Starbucks or the library to do some uninterrupted blogging or other writing one of these days.
2. But that means I need to buckle down and get control of my device-time. I've been reading at both Hands Free Mama and Orange Rhino and I need to be a better, more present parent this year (and forever after…). So if you have been trying to call me and haven't gotten through, try the home phone. I'm leaving my cell phone in my purse or put away more often these days.
3.  But that doesn't mean I'm not so tempted to go and hide, to play some stupid game on my phone to just tune out the world for a while. I still am tempted, and I still give in. Triple Town and Dots are my current faves. They calm down my introverted mind and let it just idle for a bit. I don't think that is wrong, I just think I need to work on how much it happened. And I probably need to find some other ways to chill for a bit.
4. Like Spirograph! We got one for Max for Christmas and I have to say it's my favorite toy. Not his, unfortunately. But it is more difficult than I remembered. A couple times we have just plopped down at the table and played with the colors and shapes for a while. It's so zen… when you aren't stuck with one of the bent wheels that makes you mess up every 5 seconds. Ah, the problems of a fallen world. I bet Adam and Eve didn't have that problem.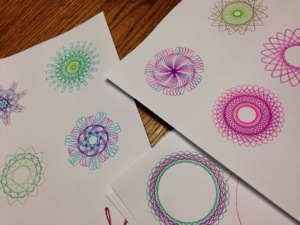 5. Paisley (oldest daughter) got a promotion! She will be counter manager for Chanel cosmetics in a week or so. I am so excited for her, she deserves the upgrade in her career and, well, I can't wait to get some of the makeup!!!
6. I'm tired. I have been posting my journey to better health on my Mommy's Diet blog, and I've made some progress. But I'm still just so stinking tired all the time. Doctors look at me like I'm crazy if I tell them that. They say, "Well, you have 9 kids, what do you expect?" or "You're just getting older." But I still think something is not quite right. I'll keep looking for the answers.
7. 2013 was not a bad year. It had some bad moments in it, and switching schools or the kids was kind of hard – both in the time management and the emotional aspects of it. But this is the first year in a while when I didn't feel like heaving a huge sigh of relief that it was over. That is a pretty good feeling, I have to say. I hope 2014 will be at least as good!