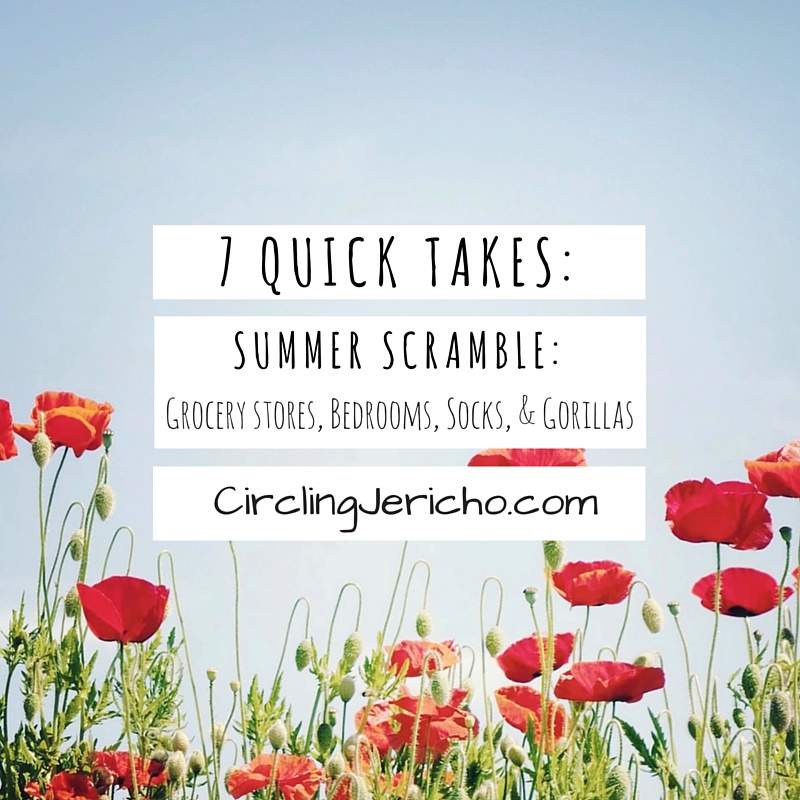 It's been an eventful couple of weeks around here with the end of school, graduations, and trying to establish some kind of summer routine. I've barely been able to form a thought, let alone write them down. So here are some truly random takes:
1: A couple weeks ago I stopped at a small grocery store on the way home from picking my kids yo from school. We needed some milk and the baby's favorite crackers, but truth be told, I really wanted one of  their awesome salads. So just me and my 5 youngest children made a quick trip through the store. It was kind of crowded, but otherwise uneventful.
Imagine my surprise when I got home and found this on my Facebook:
So I saw you at Trader Joes today, and then I happened to be walking down the aisle after you had left it when I heard this:

Lady #1: Wow, what was that?
Lady #2: I know! I'm trying to get over the shock of it! She has 5 kids!!! That just doesn't seem right.
Me (interrupting): Actually, it is. And she has several more than 5. And she's an awesome mom to them all.
Lady #2 (while Lady #1 hurries away): Ummmm…she does? But how can she afford them all?
Me: Good kids are a priority to some families. We sacrifice for them because we love them. And we love our society.
Lady #2: Oh…ummm…okay…(leaves in an embarrassed hurry)

It felt SO awesome to get to defend someone else rather than myself! Your presence at Trader Joes was a blessing today.
I was so grateful to have that support. At the same time I was also a little jarred, it hadn't really occurred to me that the negative comments would come after I leave a place. I always counted it a success to complete an errand without a confrontation. I don't get many confrontations about my kids, and mostly they are just nosy questions, nothing overtly negative. But yes, I guess we do draw a bit of attention even when things go well. The biggest effect of this encounter for me was a reminder to say something nice to other moms I see out there, dragging their kids through stores and errands. A kind word goes a long way.
2: Introvert Problems. I also felt a little bad that I hadn't said hello to my friend in the store. I was having such a day and was having trouble getting out of my head long enough to talk to my kids. There is just this conflict between "Yay! Friends!" and "Oh no! I'm not ready for conversation!" But you know, I never regret it when I make the effort and say hello.
3: Where Mom Books fail. Being a mom is hard. Some days it is damn near impossible. I still reach for encouragement in books written for mothers, by mothers. But while those books are excellent encouragement for those busy, exhausting baby and toddler days, they fall far short when the kids get older. Once you hit the point when you are dealing with cyber bullying, kids who stay out too late, calls from teachers about homework not turned in, when someone "accidentally" sets fire to the alley, older children who are not practicing their faith anymore or even doing things contrary to it. There are kids struggling with depression, medical bills piling in. There is figuring out how to live with adult children in the house and not let them act like children anymore while also not treating them like children anymore. Those are surprisingly different. Then there are the friends whose children got all the scholarships and sports trophies when you are just so glad that everyone passed their finals just well enough to not fail. It is so hard for moms to speak about these things because on some level, they are not our stories to share. Are we gossiping about our own children? Sharing things about them that they would rather keep secret? And what about the effect of all those things on us and on our marriage?
This stage can be far more lonely than when there are only little babies in the house and you are stuck at home for weeks on end because someone always has a snotty nose. In the early years it is easier to share the stories of messes, mistakes, and frustrations. Later on in parenting, there is only silence. I want to see more support for parents of older kids. It is just so hard to speak some of the problems out loud.
4: Well that last one was a real bummer, now I will tell you why my house is such a mess. (This time.) Since my son Ben graduated from high school, he gets to move into his own room. He is also a musician, and his former (shared) room was in between the rooms of the two babies, which made it difficult to practice. Also, the babies rooms were too close to each other and they sometimes woke each other up. We have 5 bedrooms, and one of them belongs to Jay and I. We aren't switching with anyone. But the other 4 bedrooms… ugh, what a mess!
It goes like this:
Move Tessa out of room 1, move Ben in.
Move Lily, Molly, and Gus out of room 2, move Posy and her baby, Elliot, in
Move Ben and Max out of room 3, move Tessa, Lily, and Molly in.
Move Posy and Elliot out of room 4, move Max and Gus in.
There were no straight up switches, so everything has been up in the air (or, rather, down on the floor) for the last week. The positive is that since Ben was getting his own room, he was highly motivated to help out. The beds are all in place – well almost – we have to buy one more since Gus is moving out of a toddler bed. But the closets and dressers are still all mixed up and most of the shoes are AWOL.
Molly just came to me crying about the missing shoes. I may have to make a trip out just to buy flip flops in case we can't find them in the next couple days. Seriously, they could be anywhere.
5: Socks. We have a lot of socks. An embarrassing amount, really. Since the laundry is always behind, it is necessary to have a few extra pairs of socks (and underwear for that matter) per person. A long time ago I had one big sock basket and just matched them up whenever I could, but with our quantity of socks and people, that became unwieldy. So I came up with this:
Mostly each person has their own bin, although I moved my socks into my room since they were forever being "borrowed." The two little girls share a bin, since they are only one shoe size apart, but they also have a bin for tights, because those take up too much space to also live in their sock box. I do not match socks, except for Gus, and that is only sometimes. Oh, and I match my own socks.
Funny sock story: Tessa called me from school one day this past year to ask me to bring tights for her school concert. I asked her where I would find them and she told me they would be in box #3. The school receptionist overheard and couldn't believe we had numbered sock boxes. Tessa thought it was cute because she didn't even think the way we do things is weird anymore and had forgotten that everyone doesn't just sort socks into boxes.
6: That whole gorilla episode. The whole internet has been held spellbound over the shooting of a gorilla when a 4 year old boy climbed into his exhibit. There has been entirely too much said about it already, but I'm adding my two cents anyway. I have a 4 year old boy. I live with a low grade level of terror over what it is possible for him to do. 4 year old boys are old enough to be trusted just a tiny bit – to walk next to you in a parking lot when your hands are full, to watch a video when you jump in a quick shower, to not put non-food items in their mouth, and a few other things. So when the internet began to vilify this mom for "allowing" her child to do this, I was horrified. Guys, pray for this momma. She is in her own personal hell right now. She watched her child dragged around by a gorilla, she watched him scream and cry in panic, and wondered if she would ever get to tuck him in bed at night again. It's sad that the gorilla had to die, but the zookeepers knew what they were doing. Now this family has to recover from a very public accident and it won't be easy.
7: Oh Hello, June. It's June. It's Phoenix. Welcome to the surface of the sun. The little kids went outside at 8am this morning and were back in after about 5 minutes, with cherry red cheeks and gasping for water bottles. Here we go!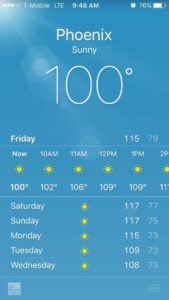 Stay cool everyone, and go see more Quick Takes @ This Ain't the Lyceum!