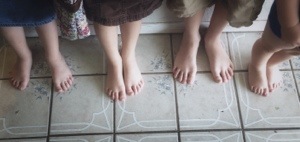 There is some rule of parenting that says shoes will always be either lost or outgrown over a Saturday night.
No matter how many shoes are accounted for on Saturday evening, at least one child has a shoe meltdown (and therefore so do I) on Sunday morning.
This little princess: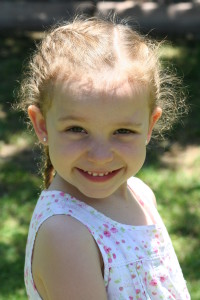 has a super special talent for losing shoes. And recently one of her crocs made it into the dryer – where it shrank, and her church shoes were outgrown, and her NEW sandals somehow ceased to exist. So all she had left was a pair of purple flip flops, which always seem to go flying right as we are walking through a blisteringly hot parking lot, and the NEW white tennis shoes for her school uniform that she is not yet allowed to touch. (White?!? Who thought that was a good idea?)
Others had out grown or lost theirs as well, so we made the trek across town today to go to the outlet mall because I knew this was a bank breaker.
Sure enough: 4 pairs of shoes at Stride Rite, 2 pair at Children's Place, and 1 at Old Navy. Not counting the 2 more pair that were selected last weekend for Big Sister to purchase with a discount at her work.
9 new pair of shoes.
NINE.
And that is not even for the whole crew, that is for 4 simultaneously growing children.
Tomorrow, I will go though all the shoes I can find anywhere and get rid of the ones that don't fit, are worn out, shrunk, or missing a mate. I will remind them again that there ARE PLACES TO PUT THESE THINGS! Multiple, convenient places are available for them to put shoes in.
And next Sunday, when we go hunting for shoes, at least the ones we can't find will be ones that fit.